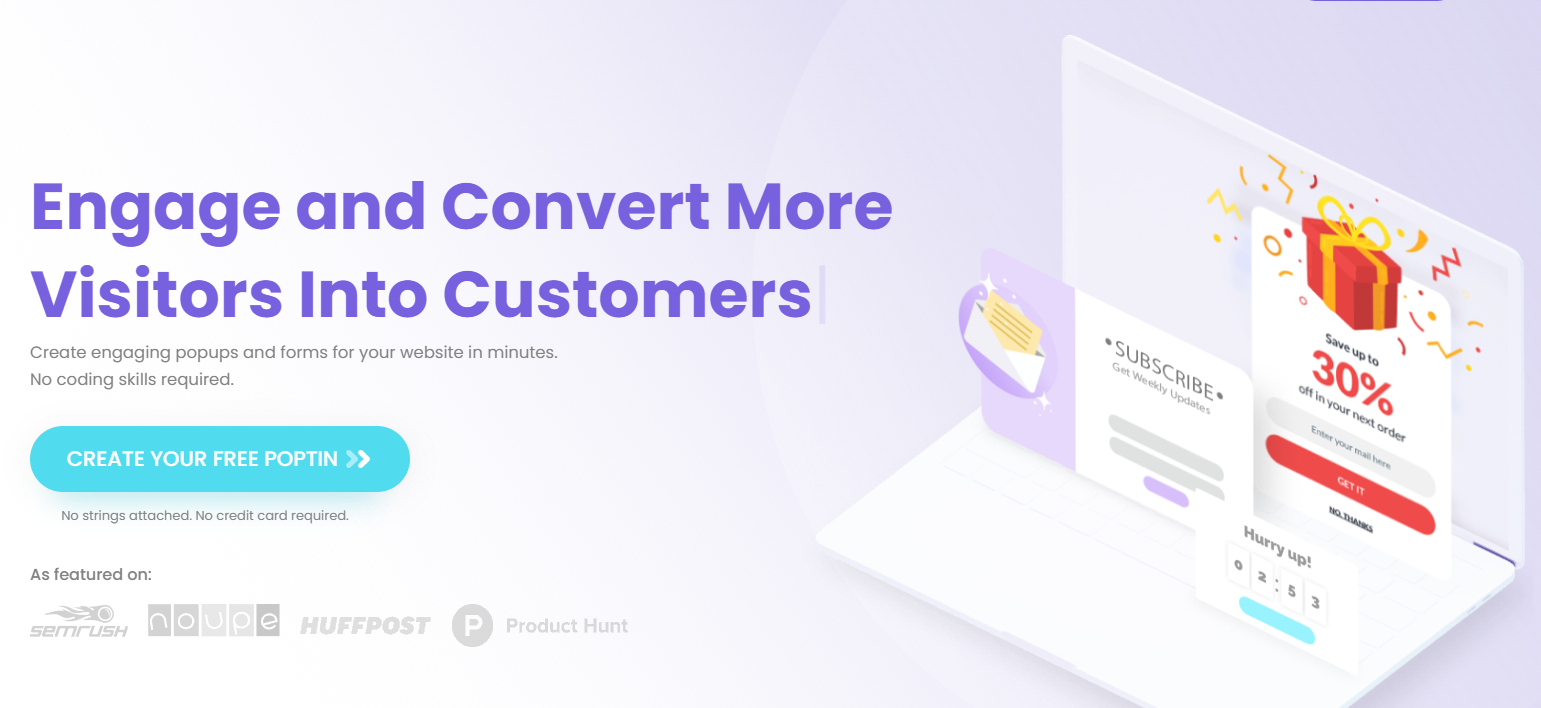 Poptin lead generation tools
Increasing the amount of leads from your website with Poptin
is a surefire way to boost your business's success. With Poptin's powerful lead generation tools, you can capture the attention of potential customers and convert them into loyal buyers. One of the key features of Poptin is its ability to create customizable pop-ups that can be tailored to fit the needs of your business. These pop-ups can be used to offer discounts, promote new products, or even collect email addresses for future marketing campaigns.
Here's What Poptin Can Do For You
Poptin offers a variety of templates and customization options to make your pop-ups stand out and grab the attention of your website visitors. You can choose from different styles, colors, and fonts to match your brand's aesthetic and messaging. Additionally, Poptin's targeting options allow you to display your pop-ups to specific audiences based on factors such as location, behavior, and referral source. This ensures that your message is delivered to the right people at the right time. With Poptin, you can increase your website's conversion rates and ultimately drive more sales for your business.
How It Works
To get started with Poptin, simply sign up for an account and install the code on your website. From there, you can choose from a variety of pre-made templates or create your own custom design. Once your pop-up is created, you can set targeting rules and triggers to determine when and where it will be displayed. Poptin also offers advanced analytics and A/B testing features to help you optimize your pop-ups for maximum effectiveness. With Poptin, you can take your website's marketing efforts to the next level and see real results in your bottom line.
Collect High-Quality Leads with Beautiful Forms
In addition to pop-ups, Poptin also offers a variety of beautiful form templates to help you collect high-quality leads. With options for contact forms, newsletter sign-ups, and more, you can easily customize and embed forms throughout your website. Poptin's form builder also includes advanced features such as conditional logic and multi-step forms to create a seamless user experience. By collecting valuable information from your website visitors, you can better target your marketing efforts and drive more sales for your business.
Over 50+ native integrations
Poptin also offers over 50+ native integrations with popular email marketing and CRM platforms, such as Mailchimp, HubSpot, and Salesforce. This makes it easy to seamlessly transfer your collected leads and data to your preferred marketing tools. Additionally, Poptin's Zapier integration allows you to connect with hundreds of other apps and services for even more flexibility. With Poptin's powerful features and integrations, you can streamline your marketing efforts and focus on what really matters – growing your business.
Create your very first poptin in less than 3 minutes!
Creating your first Poptin is quick and easy, taking less than 3 minutes to set up. Simply choose from one of the many pre-designed templates or create your own from scratch using the intuitive drag-and-drop editor. Once your form is ready, you can easily embed it on your website or landing page with just a few clicks. With Poptin, you can start collecting valuable leads and data in no time, helping to boost your marketing efforts and grow your business.
poptin pricing
Poptin has a free plan you can start with. The Basic plan starts at $19 per month, while the Pro plan is $49 per month. For larger businesses, the Agency plan offers advanced features and custom pricing. With Poptin's affordable pricing and powerful features, it's a smart choice for businesses of all sizes looking to improve their marketing efforts and grow their customer base.
---